Instead of gambling my money away, I prefer to spend my money where I can see it..
..And that's on my feet!
Here are the treasures I came back from Viva Las Vegas with: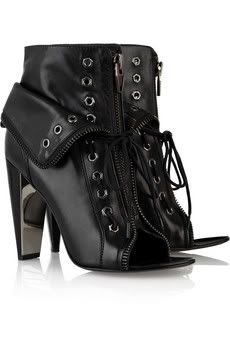 Alexander Wang Freja Booties
Purchased from BARNEYS NEW YORK at The Shoppes at The Palazzo. Not only did I find the highly sought after Wang booties, but I found the most gracious, attentive, courteous and knowledgeable shoe salesman - Max Vargas. He was absolutely great. I only hope he can be my shoe salesman for life, but until I move to Vegas, I will have to continue to call him whenever I am seeking a shoe from Barneys NY. An original New Yorker, now transplanted in sunny Las Vegas, Max has the charm of a Brazilian model, but the knowledge of the standard fashion consumed. Not only did he find my booties, but he also found me the
Alexander Wang Alla Leopard Wedges
. He knew exactly what I was talking about when I mentioned leopard wedge. Unfortunately, my size was unavailable and the only size left was a 9. The shoe was not even on display, as the 9 was the last pair left and was just chilling in the back. Max also sold my sister the
Fendi Straw Platform Pump
. Such a great sturdy Fendi pump - if I might say so myself! I have had not very memorable experiences when it comes to department store sales employees, but Max will not be part of those experiences. He was, by far, the best I have experienced in my jaunts to Neimans, Saks, Barneys, etc. If only he lived in the Chicago land area.. he would have my sales for life. If you are ever in the Las Vegas area, please go see Max Vargas at Barneys NY Women's Shoes. If you ever need anything, give him a call at 702.629.4282 or send him an email at
max.vargas@barneys.com
. Tell him Missy sent you :)
*Pardon the photo - it was taken with my phone, seeing as the sunnies are so entirely new from the CHANEL collection that photos are unavailable online!*
These were purchased at Ilori at the new City Center Shops. Not only did they come in THAT DAY, but they were Chanel and exactly what I was looking for when it came to a new pair of sunnies. With the mirror reflection on the lenses and the mirror 'CHANEL' logo on the side, with touches of bright white, these sunnies scream summer as much as they screamed 'MISSY!!!' the moment I walked in the store. The great thing about them, too.. they came with a metallic silver quilted case. Love, love love them.
I spotted this sweater right before I hit the fighting room with a bunch of jeggings at SCOOP NY at the Forum Shops at Caesars Palace. I thought it was definitely classic and so casual for the spring and summer. Definitely my signature style - classic. After trying on endless jeggings and not finding the perfect one, I threw on this sweater, expecting to be disappointed. Oh I was wrong! Its the epitomy of classic perfection. Already in my head, I pictured black skinny ankle grazing jeans, a crisp white tank, nude pumps and THIS sweater. Unfortunately, it just arrived at SCOOP stores so once again, I am unable to find a picture. So pretend that you can see it in your head - natural color, off white stripes below the bust line, 3/4 length sleeves, thin cashmere - all fitting like an oversize, short tee. Yeah I know, its perfect..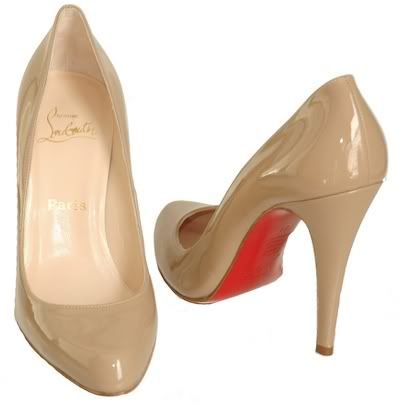 Christian Louboutin Decollete Nude Leather Pumps

*Actual shoe purchased is leather, not patent leather - but color and shape are the same*
So since I created this perfect outfit in my mind with my new CARDIGAN striped sweater, I needed the nude pumps to go along with it since I already had the tank and black ankle grazers. Well - who makes the PERFECT pump? Christian Louboutin, of course. I found the perfect pair at Neiman Marcus at the Fashion Show Mall. Unfortunately my size was not available in store, so with the help of fellow Chicagoan and 20 yr shoe sales veteran of NM, Barbara Branner, my size was located and will be shipped to me! I am anxiously awaiting these beauties as my wardrobe is calling for them. Not only will they complete my CARDGIAN sweater outfit, but they will practically go with EVERYTHING in my closet.
SUGAR FACTORY Couture Lollipop - Kim Kardashian Series
Yes, I am a total loser for buying this, but it was way too cute to pass up & let's face it.. who doesn't want to be Kim Kardashian? So with my new Kim Kardashian designed lollipop.. I am just one step closer! Plus its the perfect accessory to bring out at night when you are going to the club and dancing the night away. Just ask Morgan..

Shopping = VERY successful in Las Vegas