After a move to Dublin, Ireland from Madrid, Spain, Elena Montes Casado was a bit overwhelmed by the enormous amount of umbrellas featured every day in her new city. It seemed to be taking over the men and women on the streets of Dublin.
So to bring shine to the quite dreary climate offered by Ireland, Elena produced an image of a lady with an umbrella for her head, thus producing
LadyUmbrella
With the help of Robert Ryan, together they began to create the LadyUmbrella brand in 2008. After two years spent researching, developing and designing the brand and tee shirts, LadyUmbrella was launched on January 20th this year.
The brand consists of the leading lady in a variety of scenes from a peaceful stroll in the park with the birds to preparing for a triathlon. These, plus several other scenes, are printed on custom made 100% combed cotton tee shirts.
Since launching in the beginning of 2010, these uplifting and very playful tees have been shipped throughout the world to everywhere from England to Spain, Australia, Germany, Italy and South Korea. LadyUmbrella is currently being featured at the Austin Music Festival, SXSW (South by Southwest) and is sure to be a favorite of many very soon after it's very eclectic and trendy arrival here in the United States. The tee shirts are also currently being used in the filming of a new British film titled "Booked Out", which is due for release later this year.
After being both nominated for an Irish Blog Award and mentioned in two national newspapers, Elena and Robert, with their brand, LadyUmbrella, are definitely on the quick trek to success.
Being the perfect little tee that everyone craves, LadyUmbrella is one of those tees that I can envision being placed under a great shrunken leather jacket with a slouchy, pleated cropped trouser for a perfect Saturday afternoon, heading to meet my friend for coffee. These tees seem to be such a staple basic for any wardrobe.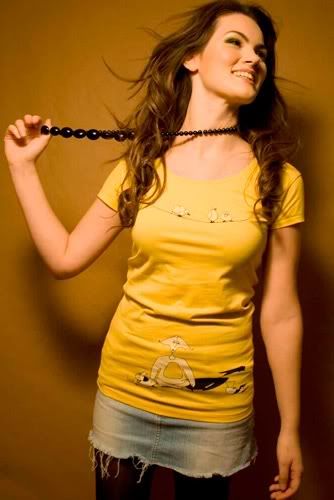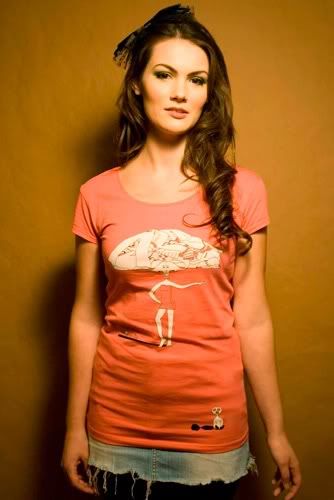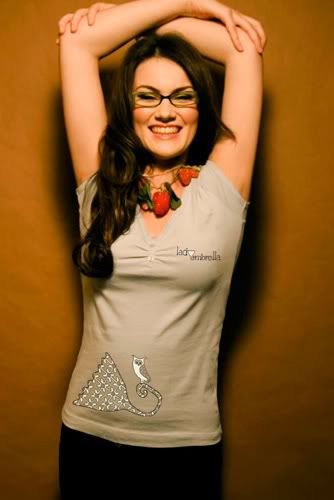 Model: Elaine O'Carrol
Photos courtesy of:
LadyUmbrella
LadyUmbrella lookbook located here:
LookBook
(15% discount code available in LookBook)
You can find the entire collection of tees at EMMA Boutique in Dublin.
To order online, please visit:
LadyUmbrella.com
For more information, you can find LadyUmbrella at the following sites:
Website -
http://www.ladyumbrella.com
Facebook -
http://www.facebook.com/ladyumbrella
Twitter -
http://www.twitter.comladyumbrellaltd
Blog -
http://ladyumbrellatees.blogspot.com
MySpace -
http://www.myspace.com/ladyumbrellaltd